Past Event: Theatre Of Hearts Comedian Line Up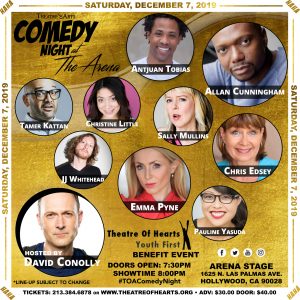 Theatre Of Hearts hosted its Second Annual "Comedy Night" Fundraiser at the Arena Stage in Hollywood on Saturday, December 7th, 2019. It was a great success and everyone enjoyed themselves and had a good laugh.
Where: The Arena Stage
1625 N. Las Palmas Ave, Hollywood, CA 90028
Suggested Donation:
Advanced Ticket $30, $40 at the door. All proceeds from this event will benefit Theatre Of Hearts/Youth First.