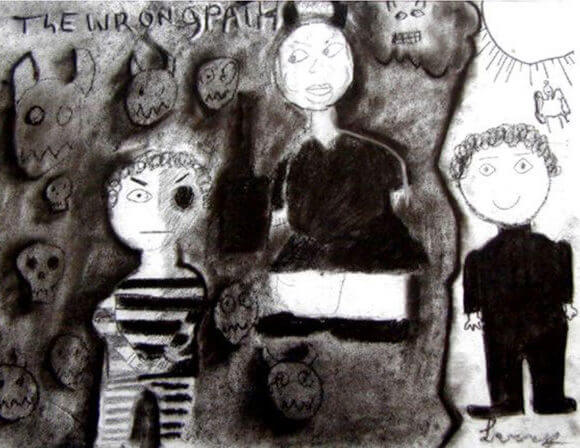 THE WRONG PATH
About the Art…
Depicts the struggles of taking the wrong path in life and the joy brought by choosing the right one.
About the Artist…
The artist is Larry, age 16: "I get into trouble all the time. I don't mean to but I just do. When I do art I feel calm. I feel like I'm important and it keeps my mind still. I like to draw. I'm going to do better and make my mother proud of me and maybe she'll come and visit me sometimes."
ALL DONATIONS GO DIRECTLY TO SUPPORT THEATRE OF HEARTS/YOUTH FIRST ARTIST-IN-RESIDENCE PROGRAM – Thank You For Your Generous Donation.
YOUTH FIRST = OUR FUTURE!
Additional Information
| | |
| --- | --- |
| Size | 14" x 11" $95, 16.5" x 12.5" $275 (framed), 20" x 16" $185, 20.5" x 16.5" $325 (framed), 24" x 21" $425 (framed), 25" x 21" $425 (framed) |