LOS ANGELES TIMES SPEAKS WITH THEATRE OF HEARTS/YOUTH FIRST ABOUT THE IMPORTANCE OF THE ARTS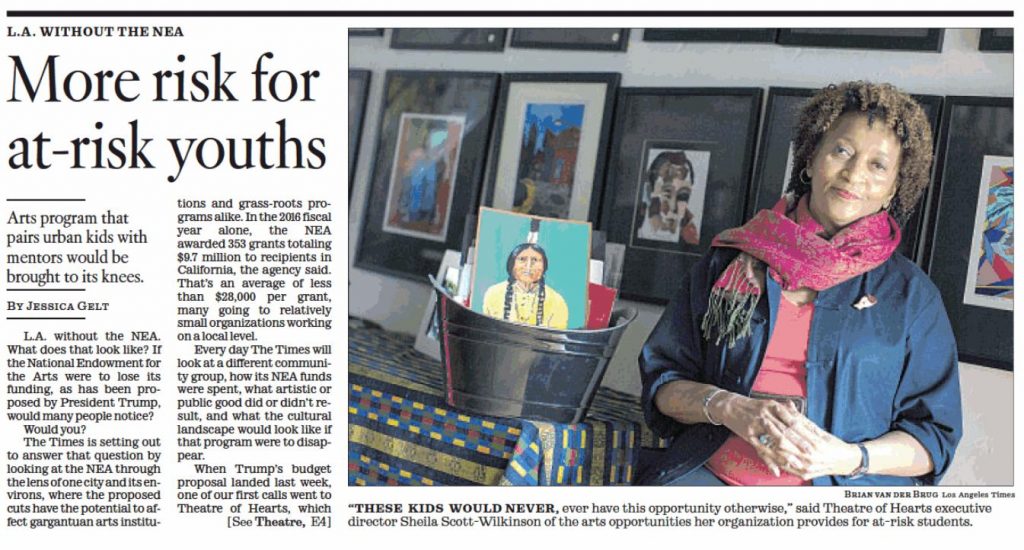 In response to the national budget proposed by the Trump administration, the Los Angeles Times interviewed Theatre of Hearts/Youth First Executive Director Sheila Scott-Wilkinson to discuss the future of the National Endowment for the Arts and arts education in the United States.
Theatre of Hearts/Youth First stands with the National Endowment for the Arts. We have always sought to empower local communities through Artist-In-Residence programs and multidisciplinary workshops. To eliminate the NEA would be to eliminate a part of the fabric of our community and humanity.
Our journey thus far would not have been possible without the support of: California Arts Council, Los Angeles County Arts Commission, Asian American Drug Abuse Program, Los Angeles Unified School District, Soledad Enrichment Action, The Annenberg Foundation, Los Angeles County Probation Department, The James Irvine Foundation, The Eisner Foundation, Preparing Achievers for Tomorrow, and initiative of the California Community Foundation, and The Flourish Foundation.